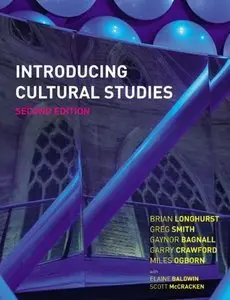 Brian Longhurst, Greg Smith, Gaynor Bagnall and Garry Crawford, "Introducing Cultural Studies (2nd Edition)"
English | ISBN: 1405858435 | 2008 | PDF | 368 pages | 27 MB
This completely revised second edition of Introducing Cultural Studies gives a systematic overview of the concepts, theories, debates and latest research in this field. Reinforcing the interdisciplinary nature of Cultural Studies, this text first considers cultural theory before branching out to examine different dimensions of culture in detail. This edition contains figures, diagrams, cartoons and photographs to help convey ideas and stimulate the reader, while pedagogical features such as Defining Concepts, Extract boxes and Further Reading sections help draw attention to the key topics covered.
This text will be core reading for undergraduates and postgraduates in a variety of disciplines - including Cultural Studies, Communication and Media Studies, English, Geography, Sociology, and Social Studies – looking for a clear and comprehensible introduction to the field.