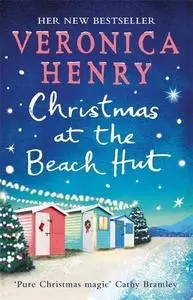 Christmas at the Beach Hut: The heartwarming holiday read you need for Christmas 2018 by Veronica Henry
2018 | ISBN: 1409166651 | ASIN: B07DHQPP4Y | English | 384 pages | EPUB | 3 MB
'A glorious story full of hope, heartache and Christmas magic' Cathy Bramley
'Wise, insightful, beautiful written and sprinkled with Christmas joy - I adored this book' Milly Johnson
Everyone adores Christmas . . .
Especially Lizzy Kingham. But this year, she is feeling unloved and underappreciated by her family. The present-buying, decorating and food shopping have all been left to her. So she wonders … what would happen if she ran away and left them to it?
Lizzy heads to her favourite place: a beach hut on the golden sands of Everdene. There she meets an unlikely collection of new friends, all running away from something. But the spirit of Christmas gets under Lizzy's skin: soon the fairy lights are twinkling and the scent of mulled wine mingles with the sea air.
Back at Pepperpot Cottage, her family are desperate to find her. For Christmas isn't Christmas without Lizzy. Can they track her down in time and convince her she means the world to them, every day of the year?
The brand new novel from the Sunday Times top-ten bestselling author of A Family Recipe and The Beach Hut. Bursting with love, hope, forgiveness - and plenty of Christmas cheer!
Your favourite authors love Veronica Henry:
'Insightful and heart-warming, this is the perfect cosy read for a cold winter's night. I loved it' Sarah Morgan, The Christmas Sisters
'A Christmas treat!' Katie Fforde
'Full of comfort and joy, warmth and wit' Alexandra Brown
Escape to the seaside this Christmas!