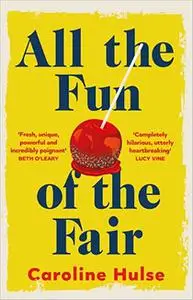 Caroline Hulse, "All the Fun of the Fair: A hilarious, brilliantly original coming-of-age story that will capture your heart"
English | 2021 | ISBN: 1409197239, 1409197247 | 100 pages | EPUB | 0.43 MB
It's 1996, summer is coming, and eleven-year-old Fiona Larson is determined to make this her best year yet…
'Completely hilarious' LUCY VINE
'Incredibly poignant' BETH O'LEARY
'The new Adrian Mole' NICOLA MOSTYN
'Sheer joy' CATHY BRAMLEY
* * * * *
The Fair is the only good thing that happens every year. And Fiona Larson is the only person in town who's never been.
She's pretended to go - but she's never been allowed. Because, before Fiona was even born, her sister died there.
This year, everything will be different.
Fiona is about to turn twelve - older than her sister was. This summer, Fiona will save some money, make new friends, and finally have some fun at The Fair.
But what she'll actually do is:
- Find a mysterious bag in a bush
- Spy on everyone
- Lose her only friend
- Make a lot of lists
- Learn the truth about what happened at The Fair…
Fresh and hilarious, All the Fun of the Fair is a deeply poignant coming-of-age novel from sensational talent Caroline Hulse.