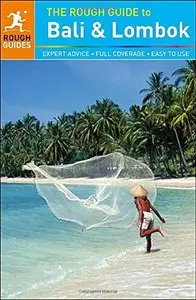 Shafik Meghji, James Stewart, Jeroen van Marle, "The Rough Guide to Bali and Lombok, 8th Edition"
ISBN: 1409348849 | 2014 | EPUB | 368 pages | 44 MB
The Rough Guide to Bali & Lombok is the ultimate guide for independent travelers visiting Indonesia's two most famous islands.
With full-color throughout, clear maps, and stunning photography, The Rough Guide to Bali & Lombok will ensure you make the most of these alluring islands, with insider tips on everything from indulgent spa retreats and fantastic shops, to the best hotels, restaurants and bars to suit every budget.
Bali's charms are many, whether you want to surf its rugged coastlines, go diving at fashionable hot spots, or explore the island's lush interior and celebrated cultural heart, Ubud, a magnet for art-lovers and a showcase for Bali's fascinating traditions. On Lombok, trek up Gunung Rinjani, one of Indonesia's highest peaks, or escape to the remote, white sandy beaches of the Gili Islands.
For all the experiences you're looking for, you'll find detailed practical advice and how to make the most of your time with The Rough Guide to Bali & Lombok.
About Rough Guides: For thirty years, adventurous travelers have turned to Rough Guides for up-to-date and intuitive information from expert authors. With opinionated and lively writing, honest reviews, and a strong cultural background, Rough Guides travel books bring more than two hundred destinations to life.