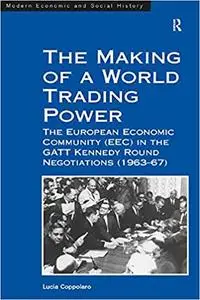 Lucia Coppolaro, "The Making of a World Trading Power: The European Economic Community (EEC) in the GATT Kennedy Round Negotiations (1963–67)"
English | 2013 | ISBN: 1409433757 | PDF | pages: 256 | 1.3 mb
Following its foundation in 1957, the European Economic Community set about establishing itself as a major player on the world stage. One of the first key arenas in which the new organisation began to make its presence felt was the GATT negotiations that took place between 1963 and 1967, known as the Kennedy Round. Through a reconstruction of these on-going negotiations, this book charts the emergence of the EEC as a world trading power and the strategies it adopted that were to have a lasting effect upon European trade policies. As well as proving an important background to the Kennedy Round, the study explains how the EEC/European Union became a powerful actor in international trade, championing a liberal attitude toward the industrial sector but a protectionist one in agriculture. It also addresses the impact of the EEC/EU as regional trading area on the multilateral and global trading system and the EEC/EU trade policy-making. Through an historical analysis of these topics, a much fuller understanding of the actual role and stance of the EEC/EU in world trade is provided, one that not only illuminates events at the time, but provides essential background to the challenges still faced by the international trading system and the World Trade Organization. Based on a wealth of documentary research drawn from European and US archives, this book will be welcomed by all wishing to better understand the complex nature of international trade in an increasingly globalised market place.