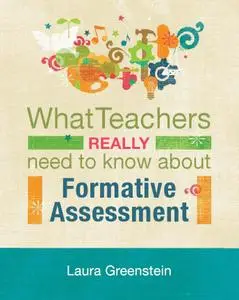 What Teachers Really Need to Know About Formative Assessment by Laura Greenstein
English | 2010 | ISBN: 1416609962 | 193 pages | PDF | 1,8 MB
What does formative assessment look like, and when should I use it? What kind of planning does it require, and what kinds of data does it generate? How will formative assessment improve my teaching and help my students succeed in a standards-based environment? How does it relate to my application of multiple intelligences theory, to differentiated instruction, and to everything else I m already doing in my classroom?
In this volume, author Laura Greenstein has gathered what you really need to know in order to make formative assessment a seamless part of your everyday practice. Emphasizing formative assessment application in secondary schools but applicable to teachers of all grade levels and all subject areas, this book provides
* Straightforward answers to teachers most frequently asked questions
* Dozens of strategies for measuring student understanding and diagnosing learning needs before, during, and after instruction
* Illustrations of formative assessment across the content areas, from math to language arts to science to social studies to health and physical education
* Guidance on making data-informed instructional adjustments
* Sample templates for organizing assessment data to track both whole-class and individual progress toward identified goals
* Case studies to illustrate effective and ineffective formative assessment and deepen your understanding
If you re looking to take formative assessment from theory to practice and from practice to genuine learning improvement this is the place to begin.
My nickname -
interes