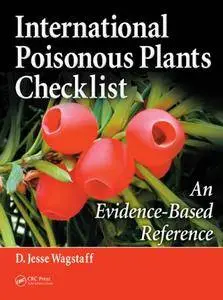 D. Jesse Wagstaff, "International Poisonous Plants Checklist: An Evidence-Based Reference"
2008 | pages: 462 | ISBN: 1420062522 | PDF | 6,1 mb
Knowledge of plant toxicity has always been important, but the information has not always been reliable. Now, increasing international trade is drawing attention to the inadequacy of regional information and highlighting the geographical fragmentation and notorious discrepancies of thinly documented information. The international community of safety regulators, toxicologists, and poison control personnel requires a single reference compiled of verifiable, primary source reports of common poisonous plants.
Intended for just that purpose, International Poisonous Plant Checklist: An Evidence-Based Reference successfully addresses the deficiencies and gaps in the current literature. Using accepted botanic names, the book defines the known set of toxic vascular plants. The use of botanic names satisfies the need for an international standard of identity to support worldwide communication and commerce. Also, taxonomy based on common ancestry and genetic connections provides a rational basis for studying and using plant relationships.
The author supports toxicity information with references to the primary literature. Each entry includes referenced citations supporting the toxicity of the plant, symptoms and circumstances of toxic exposure, dosage and potency, chemical analysis, botany, pharmacology, mechanism and metabolism, and control.
Finally, the book cross-references selected synonyms and common names. The checklist is organized alphabetically with two types of entries. The main entry documents the toxic plants themselves and a secondary entry lists selected synonyms and common names cross-referenced to the main entries.
Including virtually all common animal feed plants, human food plants, and many plants that are sources of herbal products and dietary supplements, tonics, and therapeutic agents, this timely checklist compiles and verifies the known data on toxic vascular plants from around the world.
My Link