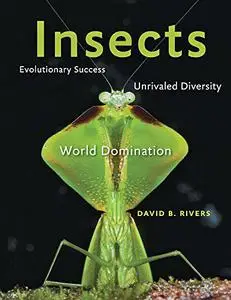 Insects: Evolutionary Success, Unrivaled Diversity, and World Domination by David B. Rivers
English | April 15, 2017 | ISBN: 1421421704 | 488 pages | EPUB | 199 MB
An introduction to the intriguing world of insects, from bullet ants to butterflies.
Designed as an introduction to the intriguing world of insect biology, this book examines familiar entomological topics in nontraditional ways. Author David B. Rivers gives important concepts relatable context through a pop culture lens, and he covers subjects that are not typical for entomology textbooks, including the impact of insects on the human condition, the sex lives of insects, why insects are phat but not fat, forensic entomology, and the threats that some insects pose to humanity.
Each chapter presents clear and concise key concepts, chapter reviews, review questions following Bloom's taxonomy of learning, web links to videos and other resources, and breakout boxes (called Fly Spots) that capture student interest with unique and entertaining facts related to entomology. Focusing on both traditional and cutting-edge aspects of insect biology and packed with extensive learning resources, Insects covers a wide range of topics suitable for life science majors, as well as non-science students, including:
• the positive and negative influences of insects on everyday human life
• insect abundance
• insect classification (here presented in the context of social media)
• insect feeding, communication, defense, and sex
• how insects are responding to climate change
• forensic entomology
• how insects can be used as weapons of war
• how insects relate to national security
• why insects have wings
• how to read pesticide labels