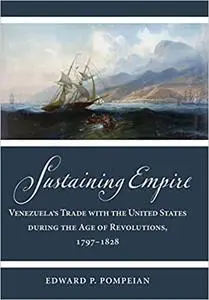 Edward P. Pompeian, "Sustaining Empire: Venezuela's Trade with the United States during the Age of Revolutions, 1797–1828 "
English | ISBN: 1421443384 | 2022 | 344 pages | PDF | 40 MB
Why did trade with the United States prolong Spanish colonial rule during the Venezuelan independence struggles?
From 1790 to 1815, much of the Atlantic World was roiled by European imperial wars. While the citizens of the United States profited from the waste of blood and treasure, Spanish American colonists struggled to preserve their prosperity on an imperial periphery. Along the Caribbean coast of South America, colonial elites and officials fought to secure Venezuela from threats of foreign invasion, slave rebellion, and revolution. For these elites, trading with the United States and other neutral nations was not a way to subvert colonial rule but to safeguard the prosperity and happiness of loyal subjects of the Spanish Crown. Food insecurity, deprivation, and political uncertainty left Venezuela vulnerable to revolution, however.