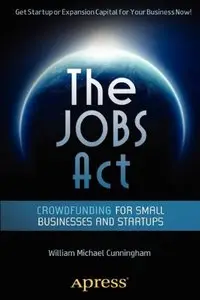 The JOBS Act: Crowdfunding for Small Businesses and Startups by William Michael Cunningham
English | ISBN: 143024755X | 2012 | 208 pages | PDF, EPUB | 7 + 4 MB
On April 5, 2012, President Barack Obama signed the Jumpstart Our Business Startups Act, better known as the JOBS Act. The act is designed to "reopen American capital markets to small companies," defined in the act as Emerging Growth Companies.
This is one of the most significant legislative initiatives in finance since the Securities and Exchange Acts of 1933 and 1934, and it opens up funding to a slew of companies previously shut out of the capital markets.
Here's the good news: Small businesses and startups will be able to raise up to $1 million in equity (or debt) funding online via what are called Crowdfunding Platforms—online communities and websites. Imagine an eBay-like site that allows you to post your idea for a commercial venture online and then allows investors to purchase equity shares or stakes in it. As one journalist put it, it's "social media meets venture capital."
How can you get in on the new funding opportunities? That's what The JOBS Act: Crowdfunding for Small Businesses and Startups is all about. Investment expert William
Michael Cunningham shows how the new law will enable you to use the internet to raise significant amounts of capital funding for your startup. After discussing briefly the development and implementation of the law, what it means, and how it will impact the business startup marketplace, he delivers the nuts and bolts of how to take advantage of the JOBS Act to access new sources of capital for your small business or startup. As you'll see, the act has the power to unleash a new wave of innovation, increase employment, and set many more average entrepreneurs and investors on the road to wealth.
Not just for entrepreneurs, The JOBS Act: Crowdfunding for Small Businesses and Startups will benefit investors, securities lawyers, community development specialists, educators, venture capitalists, and those offering services in the new crowdfunding arena. It is, simply, the most current and most comprehensive compendium of information on the law and its impact on this new market.
What you'll learn
What the JOBS Act is and why it's needed
The JOBS Act's definition of "crowdfunding," "crowdfunding platforms," and "emerging growth companies"
How to get up to $1 million through crowdfunding
The risks and rewards of taking advantage of JOBS Act
How to stay on the right side of the law when soliciting funds
How to identify and deal with reliable crowdfunding platforms and companies
How businesses owned by women and minorities can raise new capital, as well as those now shut out of the capital markets (restaurants, day-care centers and others ignored by finicky venture capitalists and skittish bankers)
How investors can identify opportunities, avoid fraud, perform due diligence, and then make an intelligent investment