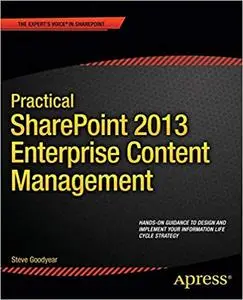 Steve Goodyear, "Practical SharePoint 2013 Enterprise Content Management"
English | 2014 | pages: 301 | ISBN: 1430261692 | PDF | 10,1 mb
Practical SharePoint 2013 Enterprise Content Management is the first book to guide you through planning and designing each phase of your information life cycle with SharePoint 2013. Author and SharePoint expert Steve Goodyear walks you through how to analyze and plan enterprise content management (ECM) solutions for an effective and end-to-end information design based on your organization's needs and business requirements.
Inside, you will develop a full understanding of how SharePoint 2013 manages content including identifying and understanding your organization's information within SharePoint, collaborating on transitory content, and capturing and controlling your records. You'll get practical advice and best practice instruction for each phase of the information life cycle to guide you on designing your ECM strategy and implementing your own ECM solution.
You learn how to:
- Apply a content life cycle model to analyze and understand your organization's information
- Design your file plan with content routing rules for your SharePoint records repository
- Plan and configure your eDiscovery portal and manage discovery cases
- Design solutions to interface and integrate with external records management systems
- Identify your organization's information security requirements
- Design content types and implement an enterprise content type hub to organize your information
Practical SharePoint 2013 Enterprise Content Management is for you if you are a SharePoint architect, administrator, consultant, or project manager, and you implement SharePoint solutions that relate to one or more aspects of the information life cycle involved with ECM.
My Link