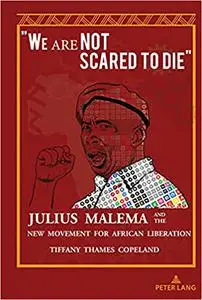 Tiffany L. Thames Copeland, ""We Are Not Scared to Die": Julius Malema and the New Movement for African Liberation"
English | ISBN: 1433183552 | 2021 | 238 pages | PDF | 12 MB
Twenty-five years have elapsed since apartheid's end and South Africa is in a state of emergency. The Black majority are landless and without basic amenities. According to a World Bank report, inequality has increased since apartheid's end. The charismatic Economic Freedom Fighters (EFF) leader, Julius Malema says, "the time for reconciliation is over, now is the time for justice," and he has captivated the minds of South African youth. The EFF was the only top political party to increase its voter base in the 2019 South African general elections, and its core voters were young people, restless for change. The EFF is a protest movement, representative of an international trend among the youth, who are using social media to protest. The EFF's pillars have emerged from a clarion call among the youth for their liberation. Malema says the EFF is the "true inheritor of the ANC's radical agenda," as he vows to fight corruption in South Africa, striking fear in the hearts of the white monopoly capitalists and their conspirators. In addition, Malema's agitational rhetoric is investigated in the first rhetorical study on his discourse, and the results are fascinating. At its core, this struggle among the generations, is for the future direction of South Africa. So, the South African youth are singing struggle songs and toyi-toying, wearing red berets, attentively listening to their command team, holding up their election manifesto called a gun, and are equipped now for the legislative battles for economic freedom in their lifetime.
Read more