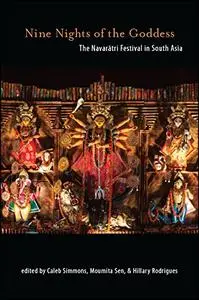 Nine Nights of the Goddess: The Navaratri Festival in South Asia (SUNY series in Hindu Studies) edited by Caleb Simmons, Hillary Rodrigues, Moumita Sen
English | August 1, 2018 | ISBN: 143847069X, 1438470703 | EPUB | 374 pages | 3.4 MB
Nine Nights of the Goddess explores the festival of Navarātri—alternatively called Navarātra, Mahānavamī, Durgā Pūjā, Dasarā, and/or Dassain—which lasts for nine nights and ends with a celebration called Vijayadaśamī, or "the tenth (day) of victory." Celebrated in both massive public venues and in small, private domestic spaces, Navarātri is one of the most important and ubiquitous festivals in South Asia and wherever South Asians have settled. These festivals share many elements, including the goddess, royal power, the killing of demons, and the worship of young girls and married women, but their interpretation and performance vary widely.
This interdisciplinary collection of essays investigates Navarātri in its many manifestations and across historical periods, including celebrations in West Bengal, Odisha, Karnataka, Maharashtra, Tamil Nadu, Uttar Pradesh, and Nepal. Collectively, the essays consider the role of the festival's contextual specificity and continental ubiquity as a central component for understanding South Asian religious life, as well as how it shapes and is shaped by political patronage, economic development, and social status.