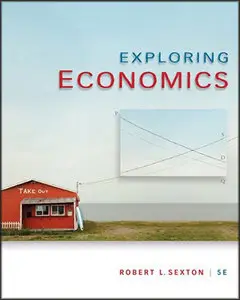 Exploring Economics (5th Edition)
South-Western College Pub | ISBN : 1439040249 | January 13, 2010 | 1024 pages | PDF | 104MB
A professor of economics within Pepperdine's Seaver College, Robert Sexton is a graduate of California Lutheran College. He received his masters and PhD degrees from the University of Colorado. He writes frequently for economic and business journals and is the author of nine books on economics, including his newly released Essentials of Economics published by South-Western/Thomason-Learning Publishers. Other notable works include Exploring Economics: A Pathway to Problem Solving, Exploring Microeconomics: A Pathway to Problem Solving, Exploring Macroeconomics: A Pathway to Problem Solving, and Microeconomics. His research spans American economic history, economic policy analysis, statutes and enforcement costs, public choice, regional economics, migration, and economic education.
DOWNLOAD LINKS
*Read before commenting*
If you can't view contents, let's use PDF-XChange Viewer (personally the best app for reading PDF) or Foxit.