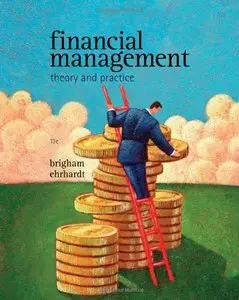 Financial Management: Theory & Practice By Eugene F. Brigham, Michael C. Ehrhardt
Publisher: Sou..th-Wes,tern Colle/ge Pub; 13 edition 2011 | 1184 Pages | ISBN: 1439078092 , 1439078106 | PDF | 184 MB
Gain an understanding of the financial theory that is essential for developing and implementing effective financial strategies in business today. FINANCIAL MANAGEMENT: THEORY AND PRACTICE, 13E strikes a perfect balance between solid financial theory and practical applications. You develop a strong working knowledge of today's changed financial environment as this edition examines recent financial crises, the global economic crisis, and role of finance in business and your personal life. The book's relevant presentation, numerous examples and emphasis on using Excel spreadsheets show you how to increase the value of a firm. Integrated practice using Thomson ONE-Business School Edition gives you hands-on experience with the research tool Wall Street professionals use daily. This text provides a valuable financial reference tool you will use throughout your academic and business career. Eugene F. Brigham, Graduate Research Professor Emeritus at the University of Florida since 1971, received his MBA and PhD from the University of California-Berkeley and his undergraduate degree from the University of North Carolina. He has served as president of the Financial Management Association and has written more than 40 journal articles on the cost of capital, capital structure, and other aspects of financial management. Dr. Brigham has testified as an expert witness in numerous electric, gas, and telephone rate cases at both the federal and state level, and served as a consultant to many corporations and government agencies, including the Federal Reserve Board, the Federal Home Loan Bank Board, the U.S. Office of Telecommunications Policy, and the RAND Corporation. Dr. Michael C. Ehrhardt is a Professor in the Finance Department and is the Paul and Beverly Castagna Professor of Investments. He completed his undergraduate work in Civil Engineering at Swarthmore College. After working several years as an engineer, he earned his M.S. in Operations Research and Ph.D. in Finance from the Georgia Institute of Technology. Dr. Ehrhardt has taught extensively at the undergraduate, masters, and doctoral levels in the areas of investments, corporate finance, and capital markets. He has directed and served on numerous dissertation committees and is a member of the team that developed and delivered the integrative first year of the MBA program. Dr. Ehrhardt teaches in Executive Education Programs and consults in the areas of corporate valuation, value-based compensation plans, financial aspects of supply-chain management, and the cost of capital. He has been awarded the Allen G. Keally Outstanding Teacher Award, the Tennessee Organization of MBA Students Outstanding Faculty member, the College of Business Administration Research & Teaching Award, and the John B. Ross Outstanding Teaching Award in the College of Business. Much of his research focuses on corporate valuation and asset pricing models, including pricing models for interest-rate sensitive instruments. His work has been published in numerous journals, including The Journal of Finance, Journal of Financial and Quantitative Analysis, Financial Management, The Financial Review, The Journal of Financial Research, and The Journal of Banking and Finance. He has also authored or co-authored several books addressing various areas of finance.
!!!No Mirrors below, please! Follow Rules!