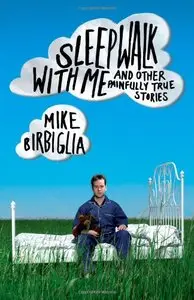 Sleepwalk with Me: and Other Painfully True Stories By Mike Birbiglia
Publisher: Si.mon & Sch.uster 2010 | 208 Pages | ISBN: 1439157995 | PDF + EPUB | 4 MB + 2 MB
Comedian Birbiglia, frequent contributor to public radio's This American Life and The Moth and author of the blog My Secret Public Journal, has the ability to remember a lot of things most of us would just as soon forget. Lucky for us, in this memoir Birbiglia recalls the events leading up to his earning the childhood nickname "Tinkles" (though you might be able to guess how it happened), and he tells the story of how, instead of bestowing his first kiss on his middle-school crush, he tossed his cookies at her feet. He's now, hopefully, cashing in on the demoralizing dues paid in his youth and early career as a stand-up comic—readers will recognize him from the late-night circuit and Comedy Central specials, and the book itself is an extension of his one-man show. Charming, brainier than he'd probably admit, and frequently poignant in spite of himself, Birbiglia throws together an alternately rollicking and warm handful of stories; the lengthy title story, of his struggle with a sleep disorder, is as fascinating as it is hilarious.
!!!No Mirrors below, please! Follow Rules!