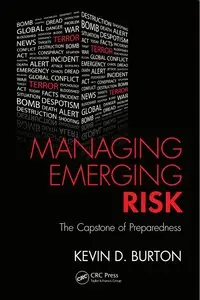 Managing Emerging Risk: The Capstone of Preparedness by Kevin D. Burton
English | 2011 | ISBN: 1439826412 | 287 pages | PDF | 4 MB
From Main Street to Mumbai, Managing Emerging Risk: The Capstone of Preparedness considers the new global drivers behind threats and hazards facing all those tasked with protecting the public and private sector. The text delves into the global mindset of public and private sector emergency managers and presents a new risk landscape vastly different from the one existing ten years ago.
The book begins by presenting a series of fictitious scenarios each resulting in mass destruction and fatalities. These are each followed by actual news stories that support the scenarios and demonstrate that the proposed events—seemingly unthinkable—have the potential to occur. Next, the author identifies two drivers in the practice of emergency management and general preparedness today that constitute our view of the future and the new face of risk. The first is the Disaster Halo Effect—the idea that modern threats exhibit more than one event. The second is the worldview of our nation as a Market State focused on the trading of goods, services, and ideas among the nation-states. The book also reviews the history of preparedness and discusses its relationship with large-scale threats, establishing that hindsight bias has hurt our ability to plan and respond to the unexpected.
The chapters that follow explore what is needed to better cultivate, design, develop, and operate emerging management and preparedness thinking in the current environment. Each chapter begins with key terms and objectives and ends with thought-provoking questions. Introducing a new paradigm of thought that takes into account the chief influencers of global threats, the book arms emergency and business operations managers with the ammo needed to successfully confront emerging threats in the 21st century.