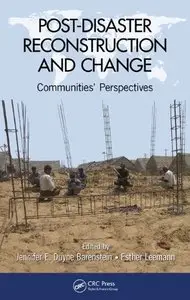 Post-Disaster Reconstruction and Change: Communities' Perspectives by Jennifer E. Duyne Barenstein, Esther Leemann
English | 2012 | ISBN: 1439888159 | 368 Pages | PDF | 29,9 MB
Successful recovery following a disaster depends upon transcending the disciplinary divides of architecture, engineering, and planning and emphasizing the importance of community perspectives in the post-disaster reconstruction process. Effective results in community recovery mandate that we holistically examine the complex interrelationship between physical and social dimensions.
Through a series of case studies, Post-Disaster Reconstruction and Change: Communities' Perspectives explores community viewpoints on post-disaster aid provided by external agencies and demonstrates how equity and effectiveness are affected by community social organization, power structures, and leadership capacities. The book further focuses on how external aid in turn affects community livelihoods, cultures, and social organizations. Each chapter serves as a real-world case study based on several months of ethnographic fieldwork conducted in India, Nicaragua, Indonesia, Sri Lanka, and Argentina.
Post-disaster community recovery depends on informed decisions that build on lessons learned from past experiences. This book shows how different communities have coped with and responded to various external interventions. Focusing on housing reconstruction and the restoration of livelihood, the authors demonstrate that changes in settlement location, morphology, housing materials, and design produce multiple cascading consequences for the inhabitants of reconstructed settlements. Ultimately, the book establishes the importance of integrating community perspectives in policies and programs for sustainable post-disaster reconstruction—enabling greater resiliency as well as future disaster risk reduction.