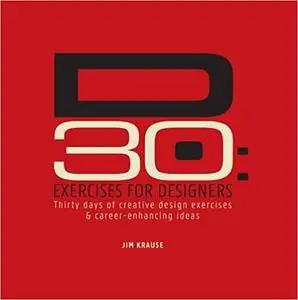 Jim Krause, "D30 - Exercises for Designers: Thirty Days of Creative Design Exercises & Career-Enhancing Ideas"
English | ISBN: 144032395X | 2013 | 248 pages | EPUB | 13 MB
Instructive and enlightening. Fun, too.
D30 is a workout book. In addition to dozens of readily applicable tips, tricks and informational tidbits, D30 contains thirty exercises designed to develop and strengthen the creative powers of graphic designers, artists and photographers in a variety of intriguing and fun ways. What will you need to begin? Not much. Most of the book's step-by-step projects call for setting aside an hour or two, rolling up your sleeves and grabbing art supplies that are probably already stashed somewhere in your home or studio–things like pens, drawing and watercolor paper, India ink, paint, scissors and glue. Digital cameras and computers are also employed for several of the exercises but–and this should be welcome news to those readers who spend their days looking at computer monitors–the majority of the book's activities make use of traditional media to illuminate creative techniques and visual strategies that can be applied to media of all sorts. Thumb through the book (or look at the samples posted on JimKrauseDesign.com) and see for yourself!