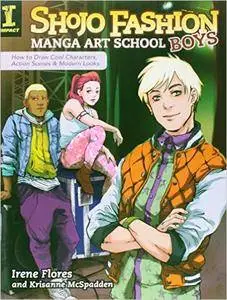 Shojo Fashion Manga Art School, Boys: How to Draw Cool Characters, Action Scenes and Modern Looks by Irene Flores, Krisanne McSpadden
2014 | ISBN: 1440334722 | English | 144 pages | EPUB | 40 MB
The number one fashion workshop for shojo manga now brings you…boys!
Guys take center stage in the latest edition of this best-selling workshop. With the same focus on styles and looks, you'll learn how to build a diverse cast of male characters that are distinctive and memorable–from the hair on their heads to the shoes on their feet. All your favorite topics are covered!
The Figure. Easy-to-follow lessons for drawing the poses and different body types.
The Face. Learn to draw the endless variations of facial features and hairstyles that will make your manga boys unique.
The Look. Wardrobe options abound for shojo men, from hoodies and t-shirts to formal and business attire, complete with coats, shoes, hats and other accessories.
The Setting. Portray your characters' worlds with group scenes of guys in action along with fun demonstrations on drawing cars, bikes, scooters and more!
By making strategic choices for body type, facial expression and clothing, you can create characters that make a statement before even uttering a word.