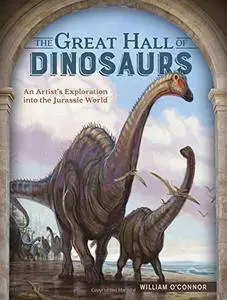 William O'Connor, "The Great Hall of Dinosaurs: An Artist's Exploration into the Jurassic World"
ISBN: 1440340722 | 2015 | PDF | 160 pages | 27 MB
Science and Imagination Collide!
Inspired by a trip with his young daughter to view the famous dinosaur exhibit of New York City's Museum of Natural History, top fantasy illustrator William O'Connor has delved deep into the sciences of paleontology and paleoecology to deliver his interpretation of some of the largest beasts to ever roam the planet. The Great Hall of Dinosaurs is an illustrated guide not limited to the contemporary science of modern paleoart. By combining the science of the dinosaurs with our own imaginations, we can dream of worlds and scenes that may have existed millions of years ago, and of animals never seen before, using nothing more than a simple no. 2 pencil and some paper. What you'll find inside:
Learn the basics of scene setting. Create believable natural dioramas with depth, dinosaurs and detailed Mesozoic ecosystems in which your creatures could live and hunt, such as mountains, forests, deserts and seashores.
16 complete step-by-step demonstrations. Build your drawings from initial composition and thumbnail sketching to completed piece through color concepting, underpainting, texture development and more with both digital and traditional painting techniques.
Learn the basics of dino morphology. Each demonstration offers a description, history, biological diagram and skeletal composition of the most popular dinosaurs, including personality traits, diet and dates of fossil discovery.
Glossary of prehistoric terms, and double-sided poster of the dinosaurs within.
Interpretations of the following creatures: anklosaurus, aptosaursus, archaeopteryx, carnotaurus, dimetrodon, gallimimus, kronosaurus, pachycephalosaurus, parasaurolophus, plateosaurus, protoceratops, pteranodon, stegosaurus, triceratops, tyrranosaurus, velociraptor.