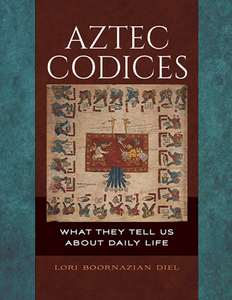 Aztec Codices : What They Tell Us About Daily Life
by Lori Boornazian Diel
English | 2020 | ISBN: 1440851808 | 414 Pages | ePUB | 28 MB
From the migration of the Aztecs to the rise of the empire and its eventual demise, this book covers Aztec history in full, analyzing conceptions of time, religion, and more through codices to offer an inside look at daily life.
This book focuses on two main areas: Aztec history and Aztec culture. Early chapters deal with Aztec history—the first providing a visual record of the story of the Aztec migration and search for their destined homeland of Tenochtitlan, and the second exploring how the Aztecs built their empire.
Later chapters explain life in the Aztec world, focusing on Aztec conceptions of time and religion, the Aztec economy, the life cycle, and daily life. The book ends with an account of the fall of the empire, as illustrated by Aztec artists. With sections concerning a wide variety of topics—from the Aztec pantheon to war, agriculture, childhood, marriage, diet, justice, the arts, and sports, among many others—readers will gain an expansive understanding of life in the Aztec world.
- Provides an overview of life in the Aztec world and takes as its starting point the books created by Aztec peoples themselves
- Explores different topics related to Aztec history, culture, and daily life by first studying and providing a reading of a page from a codex
- Elucidates daily aspects of Aztec life such as diet, religion, calendars, economic systems, clothing and adornment, and more
- Allows students to gain both an understanding of the Aztec pictorial system of writing and of how the Aztecs lived their lives
If you want to support my blog, then you can buy a premium account through any of my files (i.e. on the download page of my book). In this case, I get a percent of sale and can continue to delight you with new books!