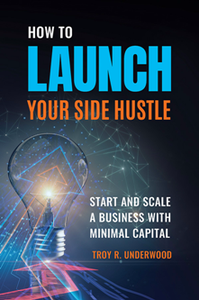 How to Launch Your Side Hustle :
Start and Scale a Business with Minimal Capital
by Troy R. Underwood
English | 2020 | ISBN: 1440873607 | 154 Pages | PDF | 1.64 MB
This book will teach you how to start, scale, and sell a small business from scratch. It is intended for entrepreneurs of all levels, from first-time business owners to seasoned executives looking for a new perspective.
Once you've dug up enough pennies from between the couch cushions to start a new business, you're going to need a plan. How to Launch Your Side Hustle will walk you through the process of crafting your venture.
Author Troy R. Underwood, a trained software developer and entrepreneur, emphasizes using low-cost techniques and creative ideas to finance, market, and run your business, even as it gains momentum. Using his previous company as a model of what to do—and sometimes what not do to—Underwood candidly takes you through the steps of building your business, guided by the principle of necessity.
Each chapter is dedicated to a particular facet of business, from hiring and training the right people to pricing your product or service, buying the right software and tools, navigating legal issues, and understanding when it's time to sell the business. This book provides you with basic best practices in a quick and simple format, so you can get back to work on turning your aspirations into a reality.
- Includes 10 straightforward chapters that lend themselves to quick reading
- Emphasizes low-cost practices that are applicable to all businesses
- Shares technical and practical insights from a business professional
- Covers all of the basics to starting a new business, using real examples
If you want to support my blog, then you can buy a premium account through any of my files (i.e. on the download page of my book). In this case, I get a percent of sale and can continue to delight you with new books!