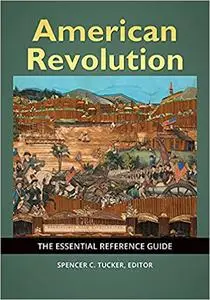 American Revolution: the Essential Reference Guide
by Tucker, Spencer C.;
English | 2021 | ISBN: 1440876517 | 355 pages | True (PDF EPUB) | 17.76 MB
Providing a kaleidoscope of resources and entries on the people, places, and events that coalesced into the American Revolution, this guide offers a concise introduction to one of the most famous revolutions ever fought.
Though the American Revolution is often described within the thematic model of suppression versus freedom, the true significance of the event can be found in its nuances. Explicating complex issues, from slavery and the role of women to matters of diplomacy and strategic warfare, this guide offers comprehensive coverage of the American Revolution without oversimplifying its many facets.
Entries on key documents like the Articles of Confederation and the U.S. Constitution help readers grasp the full scope of the revolution's catalysts as well as its achievements. Primary source documents also provide access to the revolution as experienced in real-time. Author Spencer C. Tucker, editor of ABC-CLIO's award-winning five-volume set American Revolution: The Definitive Encyclopedia and Document Collection, draws on his expertise to prepare the most pertinent entries on the American Revolution that both address its core elements and spur further research.
Chronology reinforces progression of the revolution as well as major events
Primary source documents offer insight into the decisions and events of the American Revolution as they unfolded
Interdisciplinary array of entries frames the American Revolution in various contexts
Concise format ensures comprehensive coverage of complex topics without fluff