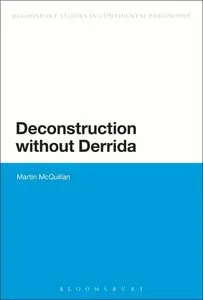 Deconstruction without Derrida by Martin McQuillan
English | 2012 | ISBN: 1441107940, 1472534301 | 240 pages | PDF | 1,4 MB
The future of deconstruction lies in the ability of its practitioners to mobilise the tropes and interests of Derrida's texts into new spaces and creative readings. In Deconstruction without Derrida, Martin McQuillan sets out to do just that, to continue the task of deconstructive reading both with and without Derrida.
The book's principal theme is an attention to instances of deconstruction other than or beyond Derrida and thus imagining a future for deconstruction after Derrida. This future is both the present of deconstruction and its past. The readings presented in this book address the expanded field of deconstruction in the work of Jean-Luc Nancy, Helene Cixous, Paul de Man, Harold Bloom, J. Hillis Miller, Judith Butler, Gayatri Spivak and Catherine Malabou. They also, necessarily, address Derrida's own readings of this work. McQuillan accounts for an experience of otherness in deconstruction that is, has been and always will be beyond Derrida, just as deconstruction remains forever tied to Derrida by an invisible, indestructible thread.
My nickname -
interes