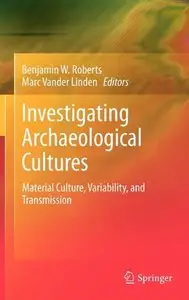 Benjamin W. Roberts, Marc Vander Linden, "Investigating Archaeological Cultures: Material Culture, Variability, and Transmission"
S in er | 2011 | ISBN: 1441969691 | 308 pages | PDF | 8,8 MB
Defining "culture" is an important step in undertaking archaeological research. Any thorough study of a particular culture first has to determine what that culture contains– what particular time period, geographic region, and group of people make up that culture. The study of archaeology has many accepted definitions of particular cultures, but recently these accepted definitions have come into question. As archaeologists struggle to define cultures, they also seek to define the components of culture.
This volume brings together 21 international case studies to explore the meaning of "culture" for regions around the globe and periods from the Paleolithic to the Bronze Age and beyond. Taking lessons and overarching themes from these studies, the contributors draw important conclusions about cultural transmission, technology development, and cultural development.
The result is a comprehensive model for approaching the study of culture, broken down into regions (Russia, Continental Europe, North America, Britain, and Africa), materials (Lithics, Ceramics, Metals) and time periods. This work will be valuable to all archaeologists and cultural anthropologists, particularly those studying material culture.
Download