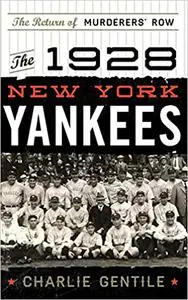 Charlie Gentile, "The 1928 New York Yankees: The Return of Murderers' Row"
English | ISBN: 1442235985 | 2014 | 340 pages | EPUB | 4 MB
The 1927 New York Yankees are often considered one of the best Yankee teams of all time—perhaps one of the best major league teams ever. Yet often overlooked is the Yankee team that followed. The 1928 Yankees started the season on track to meet and even surpass the records and accomplishments of the season before. Many players from the 1927 "Murderers' Row" were still there, including Bob Meusel, Earle Combs, Mark Koenig, Tony Lazzeri, Lou Gehrig, and Babe Ruth.
The 1928 New York Yankees: The Return of Murderers' Row tells the story of this underrated squad that endured a roller-coaster season of ups and downs to ultimately win the World Series. The baseball world, frustrated by the Yankees' dominance the previous year, rejoiced when the team stumbled badly during the 1928 preseason. Their elation turned to gloom when the Yankees charged out of the gates to start the regular season on top of the standings. In spite of holding a commanding fourteen game edge over the second place Philadelphia Athletics midway through the season, the Yankees saw their lead disappear with just three weeks remaining. Manager Miller Huggins pulled together his patchwork pitching staff and banged-up regulars and reserves to mount a nail-biting fight to the finish.
Highlighted by numerous images of the key players for the Yankees, this detailed and thoroughly researched book provides an intimate look into a season to remember. The 1928 New York Yankees includes a discussion of the best teams in baseball leading up to the 1928 season, along with historical background on the country's condition in the 1920s. From the Yankees' preseason trip to Florida through their dominance, collapse, and subsequent rise, this book will entertain and educate all fans and historians of the national pastime.
Read more