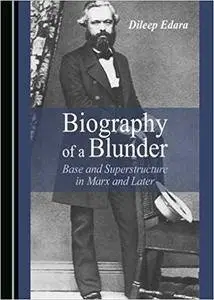 Dileep Edara, "Biography of a Blunder: Base and Superstructure in Marx and Later"
2016 | ISBN-10: 1443888109 | 375 pages | PDF | 1 MB
Engaging with a critical analysis of the base and superstructure thesis, regarding which a surprising number of reputed Marxist thinkers betray a perpetual ambivalence by frequently deploying it in a variety of contexts, but simultaneously airing various reservations about it this book proposes a radical departure from the presently predominant understanding of it. The popular view of the base as comprising economics, and superstructure as encompassing almost all other spheres of social life, is criticised as panoramic, or panoptic, or the extended version, to which Marxs rigorously defined base of production relations and superstructure of politico-legal spheres is juxtaposed. Revisiting Marxs formulations in his famous 1859 Preface, described here as his purloined letters, the study rehabilitates his restricted version, and upholds its conceptual superiority over its extended avatar that is currently ubiquitous. The substitution of Marxs restricted version with the widely believed extended version of the thesis is characterised here as a blunder, and this book traces the biography of this blunder, through the intricate and tortuous theoretical developments that traverse a transnational and multidisciplinary territory, constituting the history of Marxism. The last chapter argues for a paradigm shift, in favour of the mode of production thesis, in order to redeem the holistic vision of Marx. This shift is necessitated by the extenuation of the status of the base and superstructure thesis that results from the restoration of Marxs restricted version. This chapter grapples with the issues involved in preparing the ground for that shift. It also contends that, although these theoretical shifts are never formulated in a conscious and conclusive manner as is done here the best practices in Marxist analyses are always inspired by the methodological implications of the mode of production thesis, and, for this reason, the thesis is claimed to be the conceptual unconscious of Marxism.