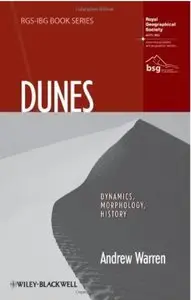 Dunes: Dynamics, Morphology, History by Andrew Warren
English | 2013-05-28 | ISBN: 1444339699, 1444339680 | PDF | 236 pages | 5,7 MB
The field of investigation into dunes is one that has developed rapidly over recent years as a result of advanced technology and increased levels of understanding. The literature on this subject however, has failed to keep pace with these developments, and Dunes is the first book in over a decade to incorporate the latest research in what is a very active field.
Dunes discusses the shapes, sizes, patterns, distribution, history and care of wind-blown dunes. It covers all aspects of dunes, terrestrial and in the Solar System, and provides a comprehensive investigation of the process of sand movement, dune dynamics, dune patterns, dunes in deserts and on coasts, in the past and in the Quaternary, and the management of dunes.
Within the text, Warren discusses the range of skills now focused on dunes, giving consideration to mathematical modelling; improved instrumentation for the measurement of sand movement in the field and in the wind tunnel; the analysis of remotely-sensed images; dating techniques, especially those dependent on thermoluminescence; stratigraphy and pedology. The result is a complete and relevant overview of the very latest developments in dune studies.
My nickname -
interes