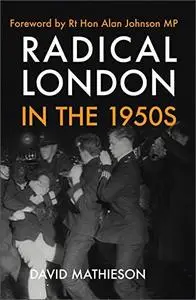 Radical London in the 1950s by David Mathieson
English | October 15, 2016 | ISBN: 1445661039 | EPUB | 232 pages | 1.9 MB
In September 1960, the central London district of St Pancras was convulsed by rioting. What had begun months before as a peaceful protest about the lack of decent housing spiralled into some of the worst street-fighting ever seen in the capital. The violence shook the nation. All Metropolitan police leave was cancelled, MPs demanded an emergency debate in the House of Commons and a horrified Home Secretary used draconian measures to quell the unrest.
The popular image of post-war Britain is one of peace and prosperity, but the disturbances in St Pancras reveal a very different history. This book explains the full story behind the riots as one ordinary community in the metropolis struggled to recover from the devastation of the Blitz and the Second World War.
The events were driven by a cast of colourful characters drawn from a remarkable generation forged by war, poverty and the relentless ambition to build a more just society. Radical London in the 1950s demonstrates how many of the issues at the centre of the storm, such as inequality, turmoil in the Labour Party, migration and affordable housing, remain at the centre of our political debates today.