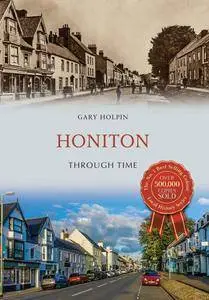 Gary Holpin, "Honiton Through Time"
English | ISBN: 1445661098 | 2016 | EPUB | 96 pages | 9 MB
The small town of Honiton nestles in the valley of the river Otter in rural east Devon. With a traditional wide market high street, and predominantly Georgian feel, the town hides an ancient past. Archaeological finds suggest the area has been inhabited since Neolithic times, and the town itself appears to have developed along the line of the Fosse way, the road built by the Romans to link nearby Exeter to Lincoln. Honiton's distinctive high street, which runs the length of the town, has remained an important route to the South West, right up to the present day. Now lined with shops, cafes and many antiques shops, a number of the buildings in the high street today show evidence of being former coaching inns, meeting the needs of weary travellers during the 17th to 19th centuries. Honiton Through Time highlights the town's long history and shows the scattering of historic buildings which survived the fires that ravaged the town during the 18th century as well as the remaining signs of its traditional industries, the most important being lace making which developed as early as the 16th century and brought significant prosperity to the town.