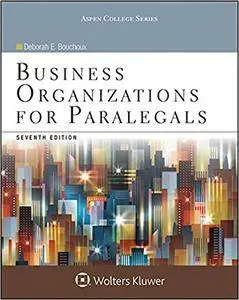 Deborah E. Bouchoux, "Business Organizations for Paralegals, 7th Edition"
ISBN: 1454852208 | 2017 | EPUB | 744 pages | 6 MB
Comprehensive overview of business organizations for paralegals, presented in a student-friendly format. Coverage of all the various types of business organizations, providing a basic and thorough understanding without overwhelming students.
Features:
In-depth coverage of business entities, including in-depth information on limited liability companies, as well as cutting edge and emerging topics in business law, such as tax inversions.
Logical sequencing of material for each business entity discussed. Each business entity is discussed in a life cycle approach: from its formation, to its advantages and disadvantages, to its operation, to its dissolution, and to its tax consequences.
The text begins with an introduction to the various business entities and then progresses from the simplest, the sole proprietorship, through partnerships, to the most complex, the business corporation. The newest forms of business entities, the limited liability partnership and limited liability company, are also discussed. The text concludes with other forms of corporations, such as nonprofit and professional corporations.
The text combines in-depth substantive coverage of topics with practical information, including checklists.
Helpful pedagogy includes web resources, key terms, practice tips, and exercises