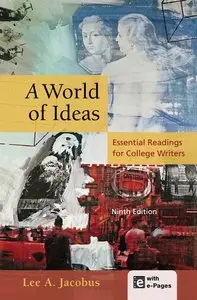 Lee A. Jacobus, "A World of Ideas: Essential Readings for College Writers"
Publisher: Bedford/St. Martin's | 2013 | ISBN: 1457604361 | English | PDF | 960 pages | 26 Mb
The first and bestselling reader of its kind, 'A World of Ideas introduces students to great thinkers whose ideas' have shaped civilizations throughout history. When students hear names like Aristotle, Martin Luther King, Jr., or Sigmund Freud, they recognize the author as important — and they rise to the challenge of engaging with the text and evaluating it critically. No other composition reader offers a comparable collection of essential readings along with the supportive apparatus students need to understand, analyze, and respond to them.
Lee A. Jacobus is professor emeritus of English at the University of Connecticut and the author/editor of popular English and drama textbooks, among them the full and compact versions of The Bedford Introduction to Drama, Sixth Edition (Bedford/St. Martin's, 2009); and The Longman Anthology of American Drama. He has written scholarly books on Paradise Lost, on the works of John Cleveland, and on the works of Shakespeare, including Shakespeare and the Dialectic of Certainty. He is also a playwright and author of fiction. Two of his plays — Fair Warning and Long Division — were produced in New York by the American Theater of Actors, and Dance Therapy, three one-act plays, was produced in New York at Where Eagles Dare Theatre. He has recently written a book of short stories, Volcanic Jesus, which is set in Hawaii.