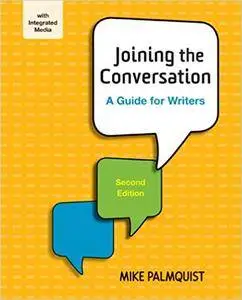 Mike Palmquist, "Joining the Conversation: A Guide for Writers (2nd edition)"
2014 | ISBN-10: 1457653168 | 704 pages | PDF | 46 MB
With a concrete, accessible approach to teaching writing with a purpose, Joining the Conversation helps your students become active participants in the exchange of ideas—with their peers, in academic communities, and in the world. Every chapter integrates advice about using technology that will help students build on the digital skills and genre awareness they already have in order to read, write, research, and respond in academic conversations. New e-Pages feature engaging selections in a range of academic and public genres, from literacy narratives and blogs to infographics and online reviews, bringing to life some of the topics students care about most. Choose Joining the Conversation with a new handbook section written by The Atlantic's Barbara Wallraff, or add a Bedford Select e-Book to Go for even more readings. As accessible and student-friendly as the successful first edition, Joining the Conversation helps student writers gain a better understanding of—and confidence in—their own writing processes.