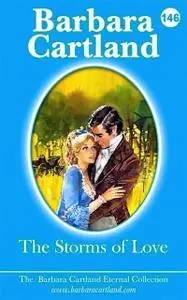 «146. The Storms Of Love» by Barbara Cartland
English | EPUB | 0.3 MB
Handsome, wealthy and always hotly pursued by London's Society beauties, the Duke of Wydeminster is a gentleman very much in demand – yet his affaires de coeur invariably leave him dissatisfied and feeling trapped, especially his current one with the beautiful Fenella Newbury, who is married to a much older husband.
What he needs in his life is not more love affairs, but a new challenge and very much sooner than he could have expected one presents itself.
First in the baffling form of a strange young woman called Aldora, who accosts him in unlikely circumstances and insists that her mother intends to force him to marry her, while also avowing her deep hatred of the Duke for reasons that he cannot fathom.
Next comes the revelation that Aldora's mother, the ambitious Marchioness of Berkhampton has suggested to Queen Victoria that the Duke should become the new Viceroy of India – a position hardly less than that of a King!
But there is a catch.
Aldora indeed spoke the truth!
In order to be considered for the supreme position of Viceroy, he must marry this young woman who despises and detests him –