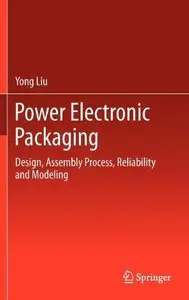 Power Electronic Packaging: Design, Assembly Process, Reliability and Modeling by Yong Liu
English | ISBN: 1461410525, 1489987975 | 2012 | PDF | 609 pages | 26,1 MB
Power Electronic Packaging presents an in-depth overview of power electronic packaging design, assembly,reliability and modeling. Since there is a drastic difference between IC fabrication and power electronic packaging, the book systematically introduces typical power electronic packaging design, assembly, reliability and failure analysis and material selection so readers can clearly understand each task's unique characteristics.
Power electronic packaging is one of the fastest growing segments in the power electronic industry, due to the rapid growth of power integrated circuit (IC) fabrication, especially for applications like portable, consumer, home, computing and automotive electronics. This book also covers how advances in both semiconductor content and power advanced package design have helped cause advances in power device capability in recent years. The author extrapolates the most recent trends in the book's areas of focus to highlight where further improvement in materials and techniques can drive continued advancements, particularly in thermal management, usability, efficiency, reliability and overall cost of power semiconductor solutions.