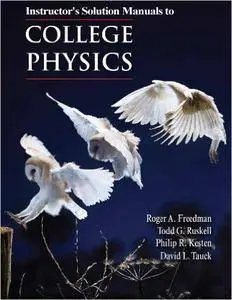 Roger Freedman, Todd Ruskell, Philip R. Kesten, "Instructor's Solution Manuals to College Physics"
English | 2013 | ISBN: 1464135622 | PDF | pages: 1226 | 27.4 mb
College Physics was written from the ground up to provide instructors and students with a fresh approach to the algebra based physics course. Its dual emphasis is on developing both deep conceptual understanding and strong problem-solving skills. College Physics also offers students a focus on real-life biological applications to illustrate why physics is important to students' future fields of work. For more information, please visit us here.
My Links

No mirrors please!