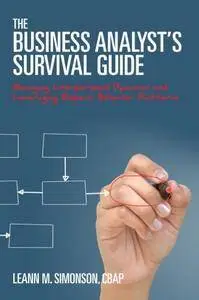 LeAnn Simonson, "The Business Analyst's Survival Guide: Managing Interpersonal Dynamics and Leveraging Repeat Behavior Patterns "
English | ISBN: 1466431768 | 2012 | EPUB | 208 pages | 0.7 MB
If there is one sentence that describes what this book teaches, it is this: To be successful as a BA, you must make it a habit to attentively analyze interpersonal dynamics, leverage your knowledge about repeat behavior patterns, and be deliberate in your response to each unique situation. Have you ever been following an analysis approach that by all accounts seemed to be the best fit for the effort at hand, yet something wasn't working? As a business analyst, you have many things to consider, analyze, plan for, and manage—not only the business problem and analysis approach but also the stakeholders, communications, relationships, personalities, skill sets, preferences, history, team dynamics, and organizational culture. At the center, you are playing an interactive role with all of these factors and participants. For any particular situation, you should ask yourself, "What are the unique human dynamics in this situation, and how can I work with these dynamics to be most successful as a business analyst?" This book provides you with interpersonal tips and techniques from the business analysis trenches, emerging from real-world successes, observations of repeat behaviors, and lessons learned. This book also provides a framework for working through your specific interpersonal challenges.