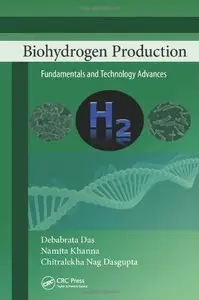 Biohydrogen Production: Fundamentals and Technology Advances by Debabrata Das, Namita Khanna and Chitralekha Nag Dasgupta
English | 2014 | ISBN: 1466517999 | ISBN-13: 9781466517998 | 408 pages | PDF | 38,1 MB
This book compiles the fundamentals of biohydrogen production technology. It offers comprehensive coverage of microbiology, biochemistry, feedstock requirements, and molecular biology of the biological hydrogen production processes. It also gives insight into scale-up problems and limitations.
In addition, the book discusses mathematical modeling of the various processes involved in biohydrogen production and the software required to model the processes. The book summarizes research advances that have been made in this field and discusses bottlenecks of the various processes, which presently limit the commercialization of this technology.
The authors also focus on the process economy, policy, and environmental impact of this technology, since the future of biohydrogen production depends not only on research advances, but also on economic considerations (the cost of fossil fuels), social espousal, and the development of H2 energy systems. The book describes the fundamentals of this technology interwoven with more advanced research findings. Further reading is suggested at the end of each chapter.