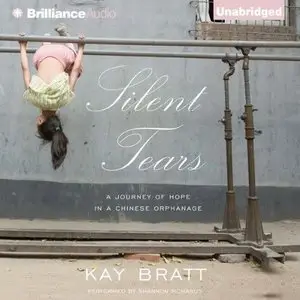 Silent Tears: A Journey of Hope in a Chinese Orphanage (Audiobook) By Kay Bratt, read by Shannon McManus
Unabridged edition 2012 | 9 hours and 55 mins | ISBN: 1469242842 | MP3 64 kbps | 288 MB
Irrepressible memories. Vacant eyes. A child being dangled from a third story window. A boy tied to a chair. Children sleeping in layers of clothing to fight off the bitter cold. An infant dying from starvation. Some things your mind will never allow you to forget. Silent Tears is the true story of adversity and triumph in one woman's fight against bureaucracy to help orphaned children. In 2003, Kay Bratt's life changed dramatically. A wife and mother of two girls in South Carolina, Bratt relocated to her family to rural China to support her husband as he took on a new management position for his American employer. In seeking a way to fill her time and overcome the isolation she experienced upon arrival, Bratt began volunteering at the local orphanage. Within months, her simple attempt to make use of her time transformed into a heroic crusade to improve conditions and minimize the unnecessary deaths of Chinese orphans. Silent Tears traces the emotional hurdles and daily frustrations faced by Bratt in trying to change social conditions for these marginalized children. The memoir divulges how she was able to pull from reservoirs of inner strength to pursue her mission day after day and leaves the reader with the resounding message that everyone really can make a difference.