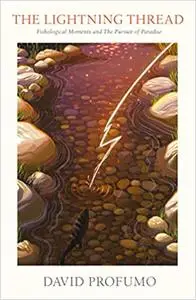 David Profumo, "The Lightning Thread: Fishological Moments and The Pursuit of Paradise"
English | 2021 | ISBN: 1471186555 | EPUB | 3 MB
From award winning novelist and journalist David Profumo comes a dazzling work about the restorative power of nature and finding joy in simple pleasures.
'David Profumo has fished everywhere man and boy, and come back with his creel crammed with adventures and misadventures - a memoir for every fisherman's bookshelf.' Tom Stoppard
It is often said there is more to the experience of fishing than the mere catching of fish, and in this evocative, wide-ranging memoir he explores the delights and mysteries of one of mankind's most ancient pursuits.
As we move from the Highland waters of his childhood and into his adult travels from the Arctic Circle to the South Seas, The Lightning Thread unpeels this idiosyncratic subject, and shows how it embraces folklore, poetry, magic, drink and disaster.
By turns a lyrical celebration of the natural world and also the quirkiness of human nature itself, this is a hymn to the great happiness that pursuing his life's passion has brought the author. In exuberant prose of warmth, wit and lightly worn erudition, this is a future classic from one of our finest writers – across forty countries and sixty years, one man's quest for perfection.
'With wit, quiet craft, and a lifetime's store of piscatorial wisdom, Profumo draws us into his paradise. Angling, he teaches us, is the continuation of childhood by other means.' Luke Jennings, author of the Killing Eve novels
'A fabulous confection of history, biology, philosophy and memoir…spiked with wit and crafted with precision and style.' Loyd Grossman
'An angling master who wears his knowledge lightly, and a dazzling writer. Everyone remotely interested in fishing, or writing, would love this book.' Prue Leith
'The Lightning Thread is a delicious account of a lifetime spent among interesting fish, people and places by a compulsive angler who seems to have forgotten nothing. Unimaginable that any fisherman could put it down.' Thomas McGuane, author of The Longest Silence