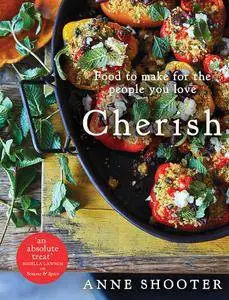 Cherish: Food to make for the people you love by Anne Shooter
English | 8 Feb. 2018 | ISBN: 1472243196 | 256 Pages | EPUB | 108.84 MB
'Sesame & Spice is an absolute treat; full of warmth and generosity, and so many recipes I want to cook, that I've been headily immoderate with my post-it notes!' Nigella Lawson
'If you're a fan of Ottolenghi and Sabrina Ghayour, you'll love this' BBC Good Food magazine
The recipes in Cherish are the food that Anne Shooter cooks for her family - the cookbook that her daughters wanted her to write. Full of love and generosity, the recipes are a delicious array of flavours from the Middle East, Eastern Europe and Jerusalem. They come from Anne's Jewish background and the times her family and friends come together to eat, celebrate and feast. With the same warm, home-style cooking of Sabrina Ghayour's Persiana, Olia Hercules' Mamushka and Emma Spitzer's Fress, Anne will open up a world of bold flavours but simple ingredients. Recipes that you will want to cook over and over again.
'Every Friday, like my mum and my grandma, and her mother before her, I cook a delicious, comforting dinner for my family and friends. My recipes come from my Jewish roots, but I have written them for the modern table, drawing from the street foods of Tel Aviv to all the Jewish communities around the world to the meals my family have now made their own.
I cook these recipes whenever we have friends or family over - a weekday one-tray supper of chicken, aubergine and bulghar wheat, a Sunday lunch of lamb shanks with apricots or roasted peppers with chickpeas, quinoa & feta for a vibrant dinner
I can turn around a veritable feast of a dinner in a couple of hours because these recipes are tried and tested by generations of cooks before me, recipes I will be passing on to my daughters for their own families one day, I hope, and that you will to yours.
This is indeed a book inspired by my Jewish roots, but above all, it is a book of food to make for people you love.'