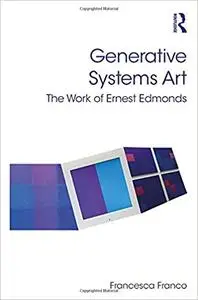 Francesca Franco, "Generative Systems Art: The Work of Ernest Edmonds "
English | ISBN: 1472436008 | 2017 | 174 pages | PDF | 14 MB
In this unique book the author explores the history of pioneering computer art and its contribution to art history by way of examining Ernest Edmonds' art from the late 1960s to the present day. Edmonds' inventions of new concepts, tools and forms of art, along with his close involvement with the communities of computer artists, constructive artists and computer technologists, provides the context for discussion of the origins and implications of the relationship between art and technology. Drawing on interviews with Edmonds and primary research in archives of his work, the book offers a new contribution to the history of the development of digital art and places Edmonds' work in the context of contemporary art history.