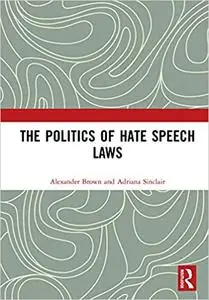 Alexander Brown, "The Politics of Hate Speech Laws"
English | ISBN: 1472439147 | 2019 | 552 pages | PDF | 3 MB
This book examines the complex relationship between politics and hate speech laws, domestic and international. How do political contexts shape understandings of what hate speech is and how to deal with it? Why do particular states enact hate speech laws and then apply, extend or reform them in the ways they do? What part does hate speech play in international affairs? Why do some but not all states negotiate, agree and ratify international hate speech frameworks or instruments? What are some of the best and worst political arguments for and against hate speech laws? Do political figures have special moral duties to refrain from hate speech? Should the use of hate speech by political figures be protected by parliamentary privilege? Should this sort of hyperpolitical hate speech be subject to the laws of the land, civil and criminal? Or should it instead be handled by parliamentary codes of conduct and procedures or even by political parties themselves? What should the codes of conduct look like?
Read more