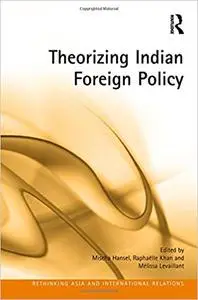 Mischa Hansel, "Theorizing Indian Foreign Policy "
English | ISBN: 1472465237 | 2017 | 236 pages | PDF | 1091 KB
Examined from a non-Western lens, the standard International Relations (IR) and Foreign Policy Analysis (FPA) approaches are ill-adapted because of some Eurocentric and conceptual biases. These biases partly stem from: first, the dearth of analyses focusing on non-Western cases; second, the primacy of Western-born concepts and method in the two disciplines. That is what this book seeks to redress. Theorizing Indian Foreign Policy draws together the study of contemporary Indian foreign policy and the methods and theories used by FPA and IR, while simultaneously contributing to a growing reflection on how to theorise a non-Western case. Its chapters offer a refreshing perspective by combining different sets of theories, empirical analyses, historical perspectives and insights from area studies. Empirically, chapters deal with different issues as well as varied bilateral relations and institutional settings. Conceptually, however, they ask similar questions about what is unique about Indian foreign policy and how to study it. The chapters also compel us to reconsider the meaning and boundary conditions of concepts (e.g. coalition government, strategic culture and sovereignty) in a non-Western context. This book will appeal to both specialists and students of Indian foreign policy and International Relations Theory.