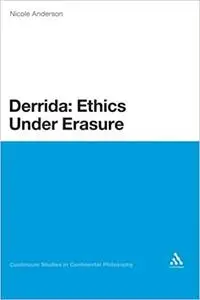 Nicole Anderson, "Derrida: Ethics Under Erasure"
English | 2014 | ISBN: 1472534069 | PDF | pages: 209 | 0.7 mb
Derrida's work is controversial, its interpretation hotly contested. Derrida: Ethics Under Erasure offers a new way of thinking about ethics from a Derridean perspective, linking the most abstract theoretical implications of his writing on deconstruction and on justice and responsibility to representations of the practice of ethical paradoxes in everyday life. The book presents the development of Derrida's thinking on ethics by demonstrating that the ethical was a focus of Derrida's work at every stage of his career. In connecting Derrida's earlier work on language with the ethics implicated in his later work on justice and responsibility, Nicole Anderson traverses literary, linguistic, philosophical and ethical interpretative movements, thus recontextualising Derrida's entire oeuvre for a contemporary readership. She explores the positive ethical implications of Derrida's work for representation and practice and asks the reader to consider how this new ethical reading of Derrida's work might be applied to concrete instances of his or her own ethical experience.