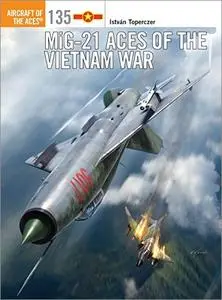 MiG-21 Aces of the Vietnam War (Aircraft of the Aces) by István Toperczer
English | September 19, 2017 | ISBN: 1472823567 | True EPUB | 112 pages | 12.4 MB
Having learned their trade on the subsonic MiG-17, pilots of the Vietnamese People's Air Force (VPAF) received their first examples of the legendary MiG-21 supersonic fighter in 1966. Soon thrown into combat over North Vietnam, the guided-missile equipped MiG-21 proved a deadly opponent for the US Air Force, US Navy and US Marine Corps crews striking at targets deep in communist territory.
Although the communist pilots initially struggled to come to terms with the fighter's air-search radar and weapons systems, the ceaseless cycle of combat operations quickly honed their skills. Indeed, by the time the last US aircraft (a B-52) was claimed by the VPAF on December 28, 1972, no fewer than 13 pilots had become aces flying the MiG-21.
Fully illustrated with wartime photographs and detailed color artwork plates, and including enthralling combat reports, this book examines the many variants of the MiG-21 that fought in the conflict, the schemes they wore, and the pilots that flew them.