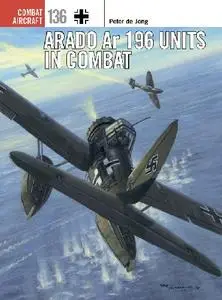 Arado Ar 196 Units in Combat (Osprey Combat Aircraft 136)
2021 | ISBN: 1472844971 | English | 97 Pages | True PDF | 14,1 MB
Beating its biplane rivals in a 1936 Reich Air Ministry design competition, the Arado Ar 196 provided the Kriegsmarine with possibly the best shipborne reconnaissance seaplane of World War II. Replacing the Heinkel He 60 biplane as the standard catapult-launched floatplane embarked on the Kriegsmarine's capital ships, the Ar 196 flew an assortment of combat missions during World War II, including coastal patrol, submarine hunting, light bombing, general reconnaissance and convoy escort sorties. The first vessel to take its Ar 196A-1s to sea was the pocket battleship Graf Spee, which embarked two in the autumn of 1939. The battleships Bismarck and Tirpitz could carry six Arados each, the battlecruisers Gneisenau and Scharnhorst four and smaller pocket battleships and cruisers two. Shore-based aircraft were also operated from coastal ports on the Channel, Baltic, North Sea and Bay of Biscay coasts, as well as in the Balkans and Mediterranean.