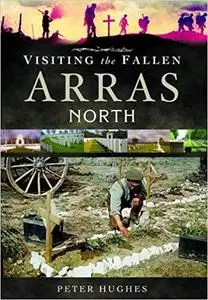 John Peter Hughes, "Visiting the Fallen - Arras North"
English | ISBN: 1473825563 | 2015 | 319 pages | EPUB | 10 MB
A 'Who's Who' of those buried in the Commonwealth War Graves Commission cemeteries located in and around Arras, Northern France. It will also cover the four memorials to the missing within that area. As such, it is a guide book rather than a chronological narrative of the war.
The aim of the book is to take the reader/visitor to each cemetery or memorial in turn and to highlight many of the individuals buried or commemorated there. Around 170 cemeteries are covered, as well as the Arras Memorial, the Vis-en-Artois Memorial, the Canadian National Memorial at Vimy Ridge, and the Royal Flying Services Memorial at Arras.
Like Ypres, Arras was a front line town throughout the Great War. From March 1916 it became home to the British Army and it remained so until the Advance to Victory was well under way. In 1917 the Battle of Arras came and went. It occupied barely half a season, but was then largely forgotten; the periods before and after it have been virtually ignored, and yet the Arras sector was always important and holding it was never easy or without incident; death, of course, was never far away. The area around Arras is as rich in Commonwealth War Graves Commission cemeteries as anywhere else on the Western Front, including the Somme and Ypres, and yet these quiet redoubts with their headstones proudly on parade still remain largely unvisited. This book is the story of the men who fell and who are now buried in those cemeteries; and the telling of their story is the telling of what it was like to be a soldier on the Western Front.
The book is overwhelmingly devoted to the First World War dead, but there are a number of cemeteries in the area, particularly village communal cemeteries, where there are Second World War burials. We intend to include these cemeteries, as they take up little space, and they also reveal some great characters and some great stories. Each cemetery and memorial is examined in quite some detail.
Some men are highlighted for who they were; for example, sons of politicians, aristocracy, or some other point of biographical interest. Particular attention is given to gallantry awards, and not just VC holders, while some entries are included for reasons of human interest; for example, an uncle and nephew killed by the same shell and buried together; the body of a son discovered and exhumed by his father; a young soldier who went out to into no man's land to search for and bring back the body of his brother; and a man who crossed the snowbound Andes using local guides just to get to a port in order to return to England to enlist.