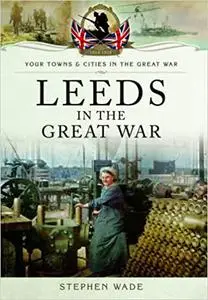 Stephen Wade, "Leeds in the Great War"
English | ISBN: 1473861543 | 2016 | pages | EPUB | 7 MB
In 1914, when the call came for Kitchener's new army to be recruited, Leeds was at the heart of the West Riding conurbation, where many men joined the Pals' Battalions. However, the city was to participate in the war effort in so many other ways. It was a textile town, with a long history of tailoring and clothing manufacture, and kept the troops in uniform throughout the war. Even then it was a hub for engineering and a vital transport link in the North, with the railway being its calling card, which remains true a century later.
Leeds is a city renowned for medicine, and the hospitals played their part both on home soil and in the gruelling conditions of the front line. Despite its reputation of having a socialist and radical population, the city – led by its mayors and councils – fought hard to gather resources and collect funds for the war effort.
In this book, Stephen Wade collects the human stories from the complexities that the Great War created; documenting the demands and ultimate sacrifices the British people had to make along the way. The book also includes tales of conscientious objectors – a topical subject with 2016 marking the centenary of conscription. Studying how these herculean efforts to clothe and save the troops affected Leeds and its inhabitants, this is a timely reminder of the people of Leeds' dedication, skill and bravery.